BlueX Pay-it-Later Referral Program
Get paid for every successful transaction that comes from your referral.
For Freight Forwarders
Limited-Time Only: Free Freight Financing
Refer a customer so they can get free financing on freight invoices. Plus, they can get quick access to funds up to $1M with net 30 or 60 day terms on their cargo invoices.
For Individuals and Sales Representatives
Refer & Earn
Refer a customer to BlueX so they can get up to $1M with net 30/60 day terms for their cargo, and you can earn a 5% commission based off the handling fees (2% for net 30, 4% for net 60).
You refer a qualified customer
Your customer gets more time to pay
How it Works
Free Sign Up
Sign up on our portal. BlueX will review your information. Once approved, you can log into the portal and start inviting new customers.
Start your Referral
Refer a qualified customer and ask them to submit a Cargo Pay-it-Later invoice on the BlueX platform.
Get Paid
Once the customer pays the invoice back after 30 or 60 days, BlueX will pay your commission.
Manage Everything with Ease
You can keep track of your referral and commission payouts on our BlueX dashboard.
Example
For instance, if your referred customer submits a Cargo Pay-it-Later of $500,000 with a net 60 day term, your commission will be:
Cargo Pay-it-Later
$500,000
Frequently Asked Questions
The customer gets more time to pay, and you can make a commission off of the referral too. With BlueX, qualified customers can get up to $1M with net 30/60 day terms, and BlueX will pay their vendors on their behalf. BlueX usually approves a customer within 48 hours of their application, which is much faster than traditional financing services. What's better, you can earn a 5% commission based on the handling fees (2% for net 30, 4% for net 60). You can see an example of the calculation above.
Once a customer submits an invoice on our platform, you can track it on your dashboard. You'll get paid when your customer settles the payment, usually on the 5th of the month after the settlement.
Sign-up takes less than 5 minutes! Contact us at sales@bluexpay.com if you have any questions.
After signing in to the portal, you can click on "Invite Customer" and directly invite a customer via the platform. Or, you can share your unique referral link and have them register through the link.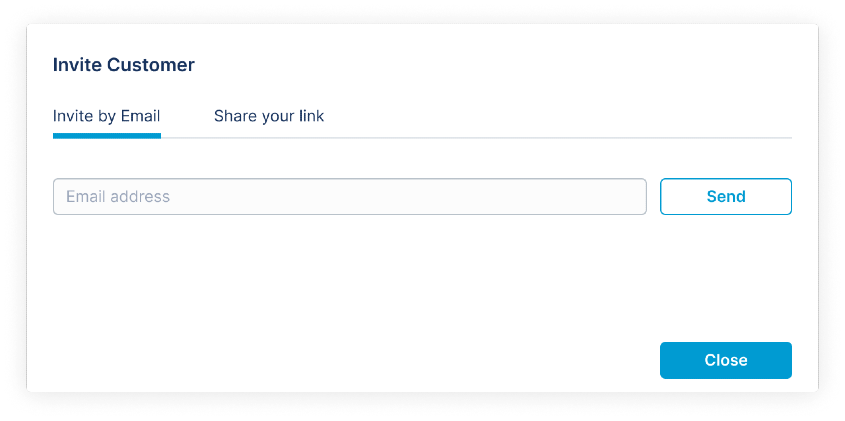 BlueX is SOC 2 Type II compliant and takes security very seriously. Thus, we review and verify each payer and vendor carefully so that payments can be made safely over our network.